Payment instructions
(SELF-STUDY BASIC SERBIAN LANGUAGE ONLINE COURSE)
Payment can be made via bank transfer. Instructions are displayed below. If online bank transfer isn`t available in your country, please print instructions and make payment at your local bank branch.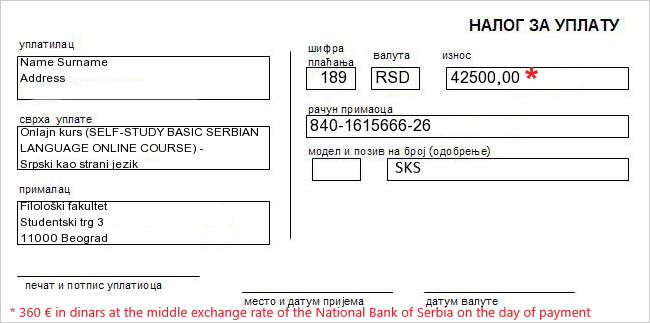 Note: Person paying bears the cost of bank charges.
If you wish to give up on the course/exam any moment after the payment and before the beginning of the course/exam, please have in mind that we will not be able to refund full amount of the fee (percent of the refund would be up to 60% of the fee).
PAYMENT INSTRUCTION EUR
SWIFT MESSAGE MT 103 - EUR

FIELD 32A:
VALUE DATE-EUR-AMOUNT
FIELD 50K:
ORDERING CUSTOMER
FIELD 56A:
(INTERMEDIARY)
DEUTDEFFXXX
DEUTSCHE BANK AG., F/M
TAUNUSANLAGE 12
GERMANY
FIELD 57A:
(ACC.WITH BANK)
/DE20500700100935930800
NBSRRSBGXXX
NARODNA BANKA SRBIJE(NATIONAL BANK OF SERBIA-NBS)
BEOGRAD, NEMANJINA 17
SERBIA
FIELD 59:
(BENEFICIARY)
/RS35840000000005779097
FACULTY OF PHILOLOGY UNIVERSITY IN BELGRAD
FIELD 70:
DETAILS OF PAYMENT
FIELD 71:
OUR
Download instruction

PAYMENT INSTRUCTION USD
SWIFT MESSAGE MT 103 - USD

FIELD 32A:
VALUE DATE-USD-AMOUNT
FIELD 50K:
ORDERING CUSTOMER
FIELD 56A:
(INTERMEDIARY)
CITIUS33XXX
CITIBANK N.A., NEW YORK
111 WALL STREET
UNITED STATES
FIELD 57A:
(ACC.WITH BANK)
/10942093
NBSRRSBGXXX
NARODNA BANKA SRBIJE(NATIONAL BANK OF SERBIA-NBS)
BEOGRAD, NEMANJINA 17
SERBIA
FIELD 59:
(BENEFICIARY)
/RS35840000000005779097
FACULTY OF PHILOLOGY UNIVERSITY IN BELGRAD
FIELD 70:
DETAILS OF PAYMENT
FIELD 71:
OUR
Download instruction